CUSTOM MADE BY ORDER
 STUFFS I MAKE SOLID AND GUARRANTEED TO  BE THE BEST ONE.
I DO NOT MAKE UNWORTHTY CHEAP AND FUNNY LOOKING STUFFS.
 1. PARACORD LANYARD=9.99US$(FOR 2.5" to 3") FOR KING COBRA=14.99$(FOR 2.5"),
  FOR 5"=19.99$
2. LATIGO LEATHER LACE LANYARD=22.99US$( FOR 2.5" )
3. KANGAROO LACE LEATHER LANYARD=24.99US$( FOR 2.5" )
4. SMALL PEWTER SKULL WITH GLO'N'DARK=2.99$
5. SOLID PEWTER TOP DRILLED SKULL HEAD WITH ULTRA-GREEN
AND ULTRA-BLUE. GLOW'N'DARK IN THE EYE=5.99US$
7. Sterling Silver BEAD 6.99$(sold out)
8. TADGEAR GLOW IN EYE PEWTER SKULL BEADS=13.99$.(SOLD OUT)

9. Emerson Pewter Skull= 9.99$ wtih glow eye in dark
10.  Gem-A-Like Necro Skull Bead=9.99$(UK made)
10a. Schmuckatelli skull pewter glow in the eye 9.99$
 10b. Schmuckatelli skull  bronze glow in the eye 9.99$
11. BoloTip nickel plated= 2.49$ each. 
12. WOODEN, GLOW BEAD AND GOLD PLASTIC BEAD IS FREE WITH
Choose from the below photos below for example
Price 7.99$ for only plain paracord lanyard with free beads indicated
below, for different lanyards have different prices.
Latigo Leather lace lanyards 
Below Kangaroo lance lanyard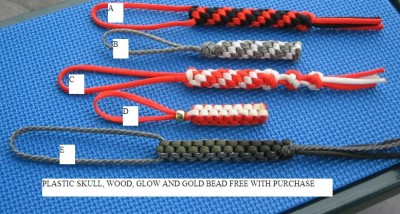 Kangaroo lace lanyard up 
above and below Kangaroo lanyard with  Black Diamond stone in the eye of skulls
(price=25$ each)
The skull below and above. I will recommend you all that this skull is very nicely done in UK
and smaller in size  and good looking-  Pewter skull
 This my new gadget. I have Made in Japan hardware and high quality and I was looking for long time and found at last
I can make lanyards for Bikers ,fly net lanyards, tool lanyards etc with leather lace, Kangaroo lace(limited) paracord. I can braid
4 strands, 6 strands(not recommended an 8 strands(not recommended). 4 strands looks beautiful. This is my money bag and I also 
use lanyards for my keys and most hardwares are Japanese...(Japanese made hardwares are expensive, but long lasting
and all are made of brass material( some coated with nickel or other material, but base mat is brass)
Wallet  lanyard made of Kangaroo lace leather with  tiger's eye bead and 2 made in Japan Bow Tie Hook and
KEY LEASH DEFENDER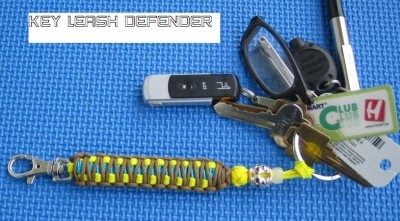 KING COBRA OR COBRA LANYARD COST 8.99S FOR 5" LONG OR
 for every inch extra 2 dollar extra....



I HAVE FOR KANGROO LEATHER HAS CHOCOLATE(DARK BROWN), BURGUNDY
(BROWN), BRANDY, RED, BLACK AND TURQUOISE COLORS.
FOR LATIGO LEATHER I HAVE BLACK, TAN COLOR.
White latigo leather lace(US Made)

Tan latigo leather lace(US made)
Black latigo leather lace(US made)
note: leather lace is mismatch in diameter, so one color latigo is better, 
but kangaroo can be mixed with 2 colors
 IN THE ABOVE PIC, I GAVE PIC OF TWO LANYARDs TO COMPARE HOW THEY ARE
 DIFFERENT IN DIAMETER. NORMALLY 30% LESS THAN PARACORD. IT IS MOSTLY
FOR SMALL KNIFE OR KEYS OR OTHER PURPOSES. KANGAROO LEATHER IS
STRONGER THAN ANY OTHER LEATHER AND FLEXIBLE. I DO SELL QUIT LOT
THRU MY WEB S
FROM LEFT ABOVE OPALITE, IRON TIGERS'S EYE WITH STERLING SILVER EYELET,
OBSIDIAN SNOW FLAKES AND TIGER'S EYE 
The above stone bead are cost=4.99$ each and iron tiger's eye
and sterling silver bead are =5.99$ each
Natural stone process to make this beautiful bead and use in lanyards
easily.  
 NECRO SKULL-GEMSTONE LIKE EYES AND MADE OF PEWTER-MADE IN UK
Necro Skull Bead is perfect for lanyard slides or other projects.
The skulls are handmade in the United Kingdom
Kaleidoscope, Neon green, Neon orange, Neon Yellow, Black gem,
Emerald green, , Charcoal, Black Diamond,
Reflective Gem and Royal Blue

It can be used as a knife lanyard, lanyard for your flashlight, 
key fob, 
zipper pull, lanyard for certain electronic devices,
attach it to a water 
bottle or canteen and other survival gears etc.
I have now the following colors:

-White---OD Green---- OLIVE DRAB P-TRRS Reflective----Olive black fleck--
 --Foliage Green----Kelly green----Kelly Green P- TRRS-Reflective-- 
--Woodland Camo  P- TRRS-Reflective----Acid Teal-- --Acid Dark Brown--
--Coyote Brown----Charcoal grey----Desert Sand Tan----Black--
--Black GID glow in the dark---- BLACK P-TRRS Reflective----Desert Camo--
--Digital woodland camo-- --Multicamo----Acudigital----Imperial Red-
-Red----Acid Orange--- Orange----Neon Orange----Neon Green---- Turquoise--
--Neon Turquoise----Neon Yellow----Electric Blue----Colonial Blue--
--Scarlet Red----Goldenrod-- -- CHOCOLATE BLACK FLECK--
--coyote black fleck----Olive black fleck-
-OD Green reflect-- OD green Reflect--Orange-
-Black Reflective-- OD green with glow tracer--Black with glow tracer--
--SAFETY YELLOW P-TRRS Reflective-- Black Reflective.
Micro Paracord 
Has a diameter of 2mm (+/- .2mm) ,Break Strength of 100 pounds,
100% Made in the USA Single Tight Twist Inner Core  
BURGUNDY

--Neon Yellow--Neon Green--Neon Turquoise-- Coyote brown--
 Below Glow in dark and tracer reflective cords( I have some of them 
and listed above. 
How the colors look like(not all in my collection)
 The colors below as an example how they looks in real world.
I don't have all the color you see below. What I have I wrote about. 
******************************************************
These are examples and price are different for other type of lanyard.